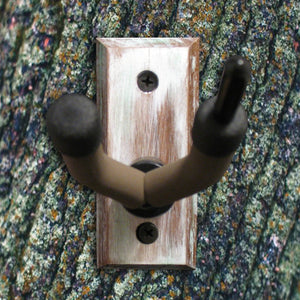 Strum Hollow Music
Violin Wall Hanger - Distressed Reclaimed Oak
Regular price
$ 29.95
$ 0.00
Unit price
per
Securely hang your cherished violin on the wall with this violin wall hanger made from distressed reclaimed oak. Its strong and sturdy construction offers reliable protection for your instrument, even for nitrocellulose lacquer finishes. With its stylish and sophisticated design, you can display your instrument in style!
The distressed reclaimed oak backboard is 4" by 1¾".
Each hangers finish will be unique but on the same color scheme.

As a music teacher I advise all of my students to leave their instrument out of their cases.
If your instrument is not put away in its case you will find that you are more likely to pick it up and play it several times a day.
It's also important to keep your Violin safe and the best way to do this is to leave it in a secure stand or wall hanger.
Displays 3/4, 4/4 violins and violas from 13"-17"

Bow holder included


Comes complete with screws and wall anchors.
---